AirportTransferSchiphol
AirportTransferSchiphol is the reliable Schiphol Amsterdam taxi transfer in Holland (The Netherlands). If you book your airport transfer with AirportTransferSchiphol, you will have a private driver at your disposal who will take you safely and comfortably to the airport at an affordable rate. AirportTransferSchiphol specializes in airport transportation to airports in the Netherlands and abroad and takes care of you from your address to the airport and back to your address again.
Various payment methods
To enhance travel convenience and speed, we offer the option to pay online using various payment methods. You can effortlessly use your credit card, ApplePay, or other online payment options without any extra fees. For security purposes, payment to the taxi driver is not accepted. Rest assured, you will receive an invoice from us, allowing you to potentially claim the incurred expenses. Streamlining the process ensures a hassle-free experience, making your journey more efficient and seamless
Reliable service
AirportTransferSchiphol has been known for years as the reliable transportation provider to airports in the Netherlands, Belgium, and Germany. It is no surprise that customers appreciate our service with a 9.9 rating. Our drivers are well-trained and helpful, making your journey as pleasant as possible. Holding open doors, offering seatbelts, and carrying your luggage are standard with AirportTransferSchiphol. We also assist with retrieving a luggage trolley.
Zowel de heenreis als de terugreis dezelfde chauffeur Ryan gehad. Erg goede service!
Betteke Korstanje
2023-06-08
In één woord FANTASTISCH professioneel, punctueel en super vriendelijk. TOPPER!!!
Uitstekend service in alle opzichten! Geweldig chauffeurs: Samir en Marc.
Top gozer Samir, goede service en duidelijke communicatie!
Wederom hier een taxi besteld voor een terugreis vanaf Schiphol. Ralph was onze chauffeur. Heel vriendelijke chauffeur en een schone auto. Communicatie was weer top, vanaf reserveren tot aan ophalen. Complimenten voor jullie uitstekende service en in september gaan we weer bij jullie boeken!
Great service with very convenient online reservation system. I've used their airport drop off/pick up service many times now, had great experience with Martien and Samir, both courteous, professional and punctual. Highly recommend!
Nang Phan Nelson
2023-05-31
Onze taxiritten naar en van het vliegveld waren weer prima geregeld! Zeer vriendelijke en nette chauffeurs die goed meedenken met veranderende omstandigheden op en rond Schiphol. Zeer attente en duidelijke communicatie voor vertrek en ook na terugkomst waar we de chauffeur weer zouden treffen om ons naar huis te brengen. Van tevoren via Ideal betaald, wat het allemaal prettig en makkelijk laat verlopen. We zijn heel tevreden en zullen zeker bij volgende vakanties weer terug komen.
Eugenie Tannenbaum
2023-05-30
Wij hebben gebruik gemaakt van hun service en diensten omdat we op een zondagochtend om 3.30 uur naar Schiphol moesten. Reserveren ging makkelijk en fijn dat je van te voren weet wat de rit kost. Je wordt via mail en sms goed op de hoogte gebracht met info. Chauffeur was ruim op tijd bij ons huis. Rit verliep soepel en vlotjes. Door de betrouwbaarheid en fijne 1e evaring hebben wij voor de terugweg naar huis ook een rit gereserveerd. Onze terugrit was op een zaterdagochtend om 2.00 uur. Ook nu was de chauffeur al op Schiphol om ons op te wachten. Kort samengevat: betrouwbaar, goede communicatie, prima prijs en fijne service!
Prima bedrijf. Marco is een prettige chauffeur.Middenin de nacht werd ik keurig op tijd opgehaald en naar Schiphol gebracht. Volgende keer maak ik zeker weer gebruik van jullie diensten
Marijke Muurling
2023-05-28
Ruim op tijd. Belt netjes van tevoren. Samir is een vriendelijke en leuke chauffeur, fijne en veilige rit, heel behulpzaam. Luchthavemexpress is zeer aan te bevelen. Had het minder dan 18 uur van te voren geboekt en via ideal betaald. Ben heel tevreden. Wij zullen voortaan alleen via Luchthavenexpress onze ritten boeken.
Do you also have good experiences with AirportTransferSchiphol from LuchthavenExpress?
Share your experience on: Tripadvisor,
Facebook or Google!
Airport Transfer Amsterdam
Airport Transfer Amsterdam, situated in Almere, is a trustworthy expert in airport transfers. Our mission is succinct yet profound: "To provide a hassle-free voyage from the airport to your residence." This encapsulates our commitment perfectly. From the instant you make a reservation, you will experience our unwavering dedication to ensuring a seamless journey for you.
Airport Transfer Amsterdam: Five Certainties
For a worry-free start to your journey, Airport Transfer Amsterdam provides five assurances. Whether you're traveling for business or leisure, count on us as your dependable taxi service to and from the airport.
Our phone lines are open 24/7
Airport Transfer Amsterdam, we understand the importance of convenience and reliable communication. While you have the option to conveniently book online or reach out to us via email, we also recognize the value of direct interaction. That's why we offer the added convenience of being available for contact by phone at all times. Feel assured that you can easily reach out to us whenever needed, ensuring a seamless and personalized experience with Airport Transfer Amsterdam.
On-Time Pick-Up Guaranteed
In fact, when it comes to taking you to the airport, our drivers are typically prepared and waiting for you five minutes prior to the scheduled pick-up time. This allows you to securely lock your home and gives us ample time to assist with loading your luggage. We prioritize punctuality and strive to ensure a smooth and stress-free start to your journey.
Neat and committed drivers
At Airport Transfer Amsterdam, our drivers are not only highly skilled and professional but also have a keen eye for cleanliness and tidiness. They take pride in their appearance and are always ready to lend a hand with your luggage. Moreover, our drivers genuinely enjoy engaging with passengers and are eager to hear your travel stories when they pick you up from the airport. We believe that personal interactions and friendly conversations add an extra touch of warmth and hospitality to your journey with us.
The best service
At Airport Transfer Amsterdam, we prioritize providing exceptional service that goes above and beyond your expectations. If you have any inquiries or concerns regarding your booking, our dedicated customer service team is always just a phone call away, ready to assist you promptly.
When it comes to handling your luggage, our drivers take great care in ensuring its proper placement and neat arrangement within the vehicle. They adhere strictly to traffic rules and regulations, guaranteeing a safe and comfortable journey. Additionally, our drivers understand the importance of personalized attention, taking the time to address your needs and make you feel valued as a passenger.
We understand the significance of child safety, and if you require a child seat or booster for your little ones, we ensure that it is readily available in the car. Your children's comfort and safety are of utmost importance to us.
Upon arrival at Schiphol Airport, our driver is more than happy to assist you by fetching a baggage trolley, eliminating any hassle and making your transition from the airport smoother and more convenient.
At Airport Transfer Amsterdam, we pride ourselves on delivering exceptional service at every step of your journey. It's our commitment to go the extra mile and provide you with an experience that truly exemplifies what we define as outstanding service.
Agreement is agreement
And that is one of the company rules of Airport Transfer Schiphol. We stick to our agreements.
Questions about your taxi to the airport?
On our FAQ (Frequently Asked Questions) page, you will find answers to the most frequently asked questions. If you cannot find an answer to your question, please do not hesitate to call us at +31886785050, we are happy to help!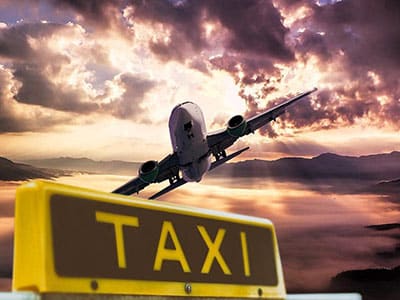 Airport Transfer Almere Schiphol
Experience the convenience and affordability of booking a taxi from Almere to Schiphol with Airport Transfer Schiphol. Starting from just €80, depending on your location in Almere, you can secure your taxi reservation swiftly and effortlessly. We also offer highly competitive rates for our spacious taxi vans, perfect for larger groups. Our vans comfortably accommodate up to 8 passengers and, thanks to their extended design, can easily accommodate 10 to 12 pieces of luggage, depending on their size. Rest assured, there is ample room for the hand luggage of all 8 passengers.
Airport Transfer Almere is your trusted transportation partner, catering to both vacationers and business travelers. We offer affordable rates for transfers to any airport in the Netherlands, as well as destinations throughout Europe. Our fares are calculated based on distance and time, ensuring that the longer your journey, the more economical the fare becomes. This commitment to competitive pricing has earned us a reputation as one of the most budget-friendly airport taxi services in the Netherlands, without compromising on excellent service.
Making a reservation is quick and convenient online. We understand the importance of hassle-free transactions, which is why we gladly accept credit card payments for your convenience. Trust Airport Transfer Schiphol to provide you with a seamless and cost-effective taxi experience.
.